2016-2020
2020
The Cellist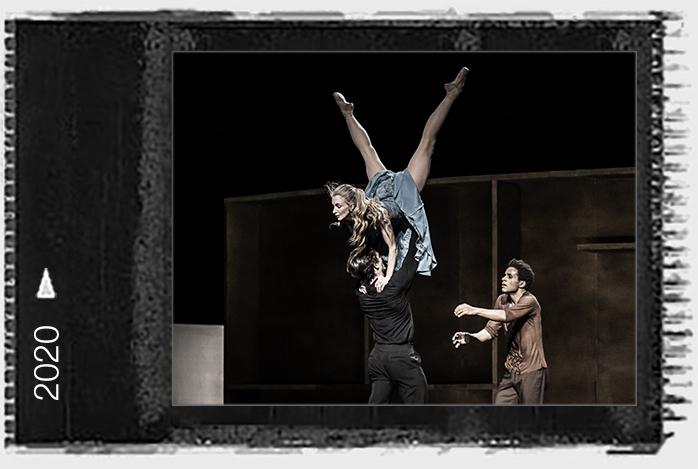 Inspired by the extraordinary life-force and musicianship of Jacqueline du Pre.
Premiere: 17th Feb 2020 for The Royal Ballet (Main Stage, Royal Opera House, London)
The performance was relayed to over 1000 cinemas worldwide and will be later produced on a DVD.
Choreography: Cathy Marston
Scenario: Cathy Marston and Edward Kemp
Music: Philip Feeney incorporating Elgar, Rachmaninov, Mendelssohn, Faure, Schubert and others
Set Design: Hildegard Bechtler
Costume Design: Bregje van Balen
Light Design: Jon Clark
Choreographic Collaborator: Jenny Tattersall
Length: 58 mins approx
Cast: 25-30 dancers (3 principal roles originally created by Lauren Cuthbertson, Marcelino Sambe, Matthew Ball)
Video Gallery Programme Full Details
"Magical, supremely romantic (Romantic, even) and stirring right from the start, The Cellist is a supreme case in point. A many-sided love story and love letter…Marston never les accuracy get in the way of truth…the stage pulsates with life, and the hour-long piece mostly zips by with tremendous speed, almost like an incredibly details, emotionally overpowering dream."
The Telegraph
In Our Wishes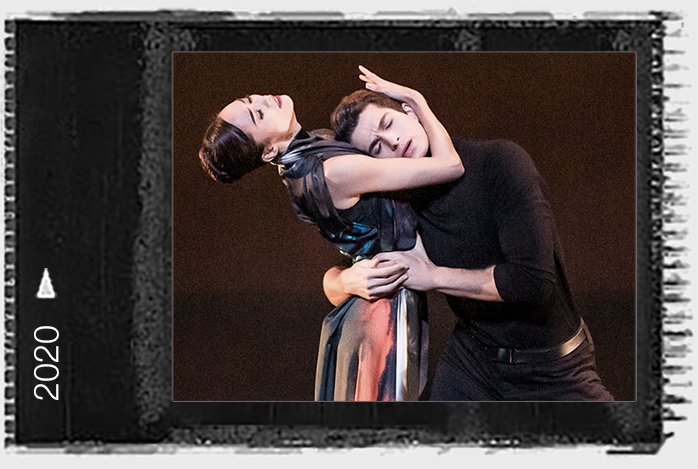 Premiere: 9th October 2020, for Royal Ballet, live streamed from the Royal Opera House, London, with 'socially distance audience' and subsequently broadcast on BBC iplayer
Music: Rachmaninov
Costume Design: Roksanda
Dancers: Fumi Kaneko/Reece Clarke and Romany Padjak/Cavin Richardson
(This duet was originally part of 'Three Sisters' created for Ballet im Revier, Gelsenkirchen, Germany. It was adapted to become a stand alone duet.)
Moving, Still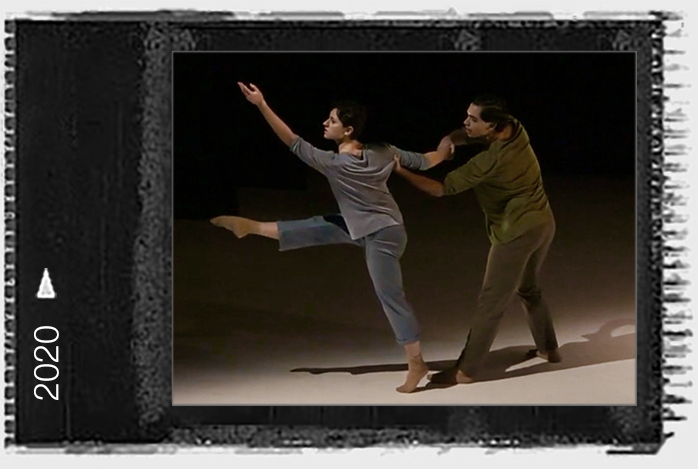 A personal response to the Covid19 pandemic and lock-down.
World Premiere (live internet relay with no live audience) 19th December 2020 for Ball Junior de Geneve.
Choreography: Cathy Marston
Music: Danish String Quartet (Traditional folk song arrangements and Hans Abrahamsen)
Costumes: Marion Schmid
Light: Arnaud Viala
Cast: 12 dancers (6m/6f)
Length: 25mins approx.
2019
Victoria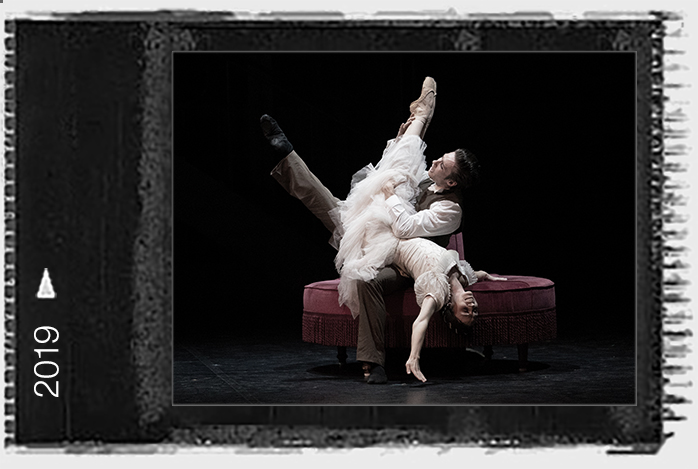 Inspired by the life of Queen Victoria and her relationship with her daughter, Princess Beatrice.
Premiere: 9th March 2019 for Northern Ballet at the Grand Theatre Leeds before a UK tour including Sadlers Wells in London.
The work was filmed for cinema and screen around the UK, later to be broadcast on BBC4. The work was a co-production with the National Ballet of Canada and nominated for a UK National Dance Award for Best Classical Choreography.
Choreography and Direction: Cathy Marston
Music: Philip Feeney
Design: Steffen Aaffing
Light: Alistair West
Scenario: Cathy Marston and Uzma Hameed
"Northern Ballet's new biopic Victoria combines grandness with emotional depth. Cathy Marston's ballet sees its heroine as both woman and queen, image and person. Thoughtful, ambitious and vividly danced."
The Independent
Buy the DVD of Cathy Marston's Victoria as seen in cinemas (directed by Ross McGibbon)
Jane Eyre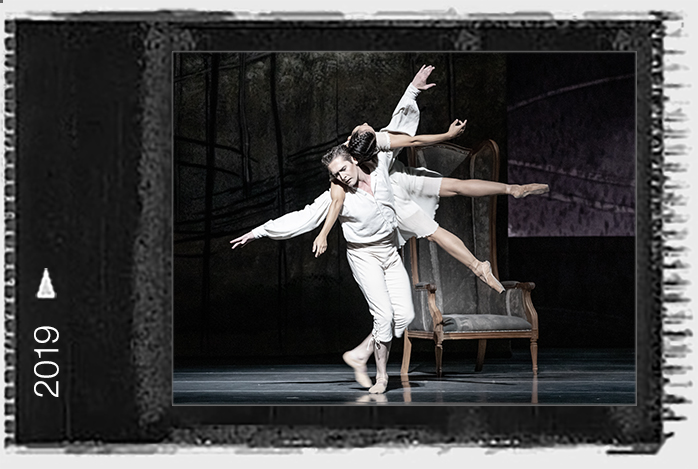 US Premiere: American Ballet Theatre, Metropolitan Opera House, 4th June 2019
Joffrey Ballett Premiere: Chicago Auditorium Theatre, 16th October 2019
Choreography and Direction: Cathy Marston
Music: Philip Feeney, Felix and Fanny Mendelssohn, Schubert
Design: Patrick Kinmonth
Scenario: Cathy Marston and Patrick Kinmonth
Length: 95 minutes in two acts
Gallery UK performance details
"...the ballet is extraordinarily eloquent, impassioned, poetic and psychologically searching. As Martha Graham said, "movement doesn't lie." And Marston's choreography uncannily captures all the pain, passion and cruelty that drive the characters in Bronte's groundbreaking (and in many ways proto-feminist) tale with surprising, often revelatory power."
WTTW.com
2018
Snowblind
Inspired by Edith Wharton's novella, Ethan Frome.
Premiere: 21st April 2018 for San Francisco Ballet, as part of their Unbound Festival of new works. Revivals planned by SFB in 2018/2019 in San Francisco and Washington.
Choreography: Cathy Marston
Scenario: Cathy Marston and Patrick Kinmonth
Music: Philip Feeney's arrangement of works by Arvo Part, Arthur Foote, Amy Beach and Feeney's original compositions.
Design: Patrick Kinmonth
Light: Jim Ingalls
Length: 31 mins
Cast: 3 principals and a group of at least 10 dancers
"A smart choice for a one-act ballet.. .Marston whittles her material down to around 30 minutes of pure dance…There is a superb chemistry between casting and choreography…Marston keeps her language plain and functional when she needs to move her story along, but it blooms vividly when focusing on the characters' inner lives…"
The Guardian
The Suit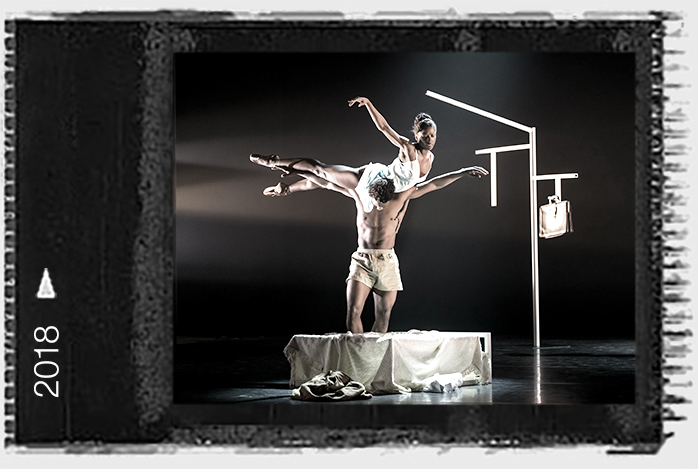 Inspired by South African writer, Can Themba's short story, The Suit.
Premiere: 15th March, Barbican, London (then a UK tour). Created for Ballet Black. Winner of the UK National Dance Award for Best Classical Choreography.
Choreography: Cathy Marston
Scenario: Cathy Marston and Edward Kemp
Music: Philip Feeney's arrangement of Kronos Quartet pieces
Design: Jane Heather
Light: David Plater
Length: 36 mins
Cast: 7 dancers (expandable)
gallery trailer video (password: TheSuit2018) full details
"***** Cathy Marston's taut new ballet The Suit shows tragedy bursting out of the seams of everyday life...Marston's duets are richly characterised. After a fond goodbye to Philemon, Cira Robinson's Matilda stretches in sensuous anticipation of her lover's arrival. Undressing Mthuthuzeli November, she stretches out a long leg to nudge down his trousers, every movement slow and heated."
The Independent
Lady Chatterley's Lover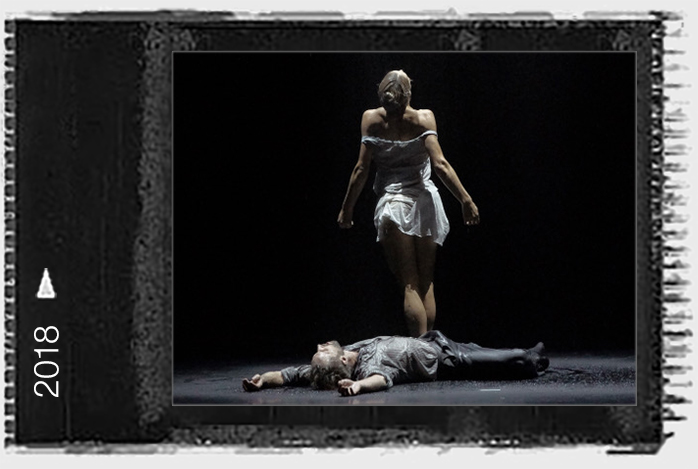 Based on the novel by D.H Lawrence.
Premiere: 4th October 2018, Les Grands Ballets Canadiens, Salle Wilfrid Pelletier, Montreal.
Choreography: Cathy Marston
Scenario: Cathy Marston and Edward Kemp
Music: Philip Feeney's original composition and arrangement of works by Scriabin
Set/Light: Lorenzo Savoini
Costumes: Bregje van Balen
Length: 1h30 in Two Acts.
Cast: 40 dancers approximately.
gallery interview full details
"**** Cathy Marston has achieved a lot with her interpretation of Lady Chatterley's Lover…Her style is honest and fecund, living on the strength of the powerfully erotic pas de deux peppered throughout. I predict this work will find itself in company repertoires around the world over the next few years. It's emotional, unsentimental and above all, tells a story that still rings true."
Bachtrack.com
Prospera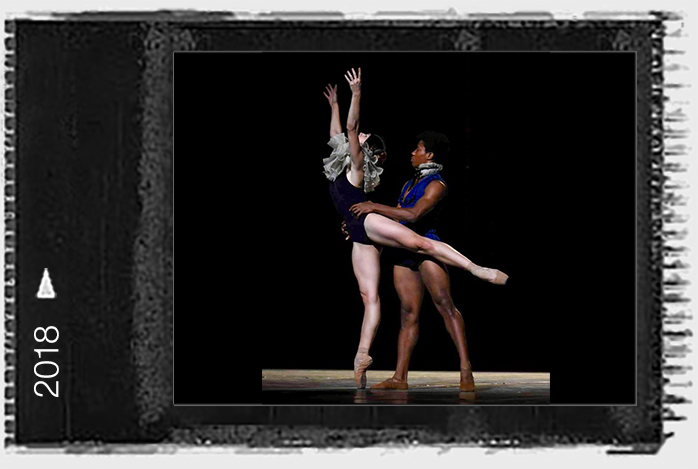 Inspired by Shakespeare's The Tempest and the life of Alicia Alonso.
Premiere: 29th October 2018, in the International Ballet Festival of Havana, Grand Teatro Alicia Alonso, Cuban National Ballet.
Choreography: Cathy Marston
Music: Lera Auerbach – Dialogues with Pergolessi
Costumes: Jean-Marc Puissant
Light: Lorenzo Savoini
Length: 25mins
Cast: 5 principals and a group of 12 dancers
"Riveting"
Pointe Magazine
"There is no doubt that the dancers' basic preparation was a good foundation, allowing the creation of a choreographic adventure - classical and contemporary fused into one, revealing passions, first that of the choreographer for Alicia / Cuba, and that of the dancers. This was seen in that group's own magnetism, both inspiring and inspired, supported by their technique and an unlimited energy that broke physical and mental barriers."
Revista Arte X Excelencia
2017
Hamlet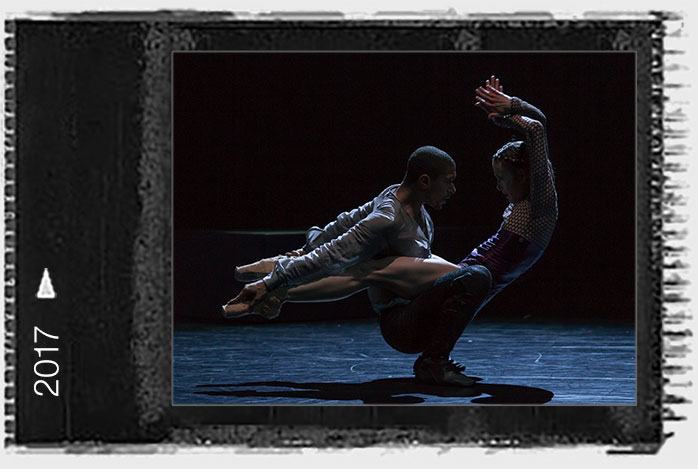 A new interpretation of Shakespeare's play from the perspective of Queen Gertrude.
Premiere: 11th February 2017, Ballett im Revier, (Musiktheater im Revier) Gelsenkirchen, Germany
Choreography: Cathy Marston
Music: Arrangement by Philip Feeney of music by Schnittke, Purcell, Part and Feeney
Design: Ines Alda
Length: 85 mins with 1 interval
gallery video (teaser) video (act 1) video (act 2) full details
"A danced masterwork… without words, but with an intensity of psychological expressiveness, of artistic daring, which can hardly be surpassed… What the dancers, inspired by Cathy Marston, both physically and mentally comprehend and perform, is truly outstanding… Great applause, standing ovations - despite or just because of the high demands on the eye, mind and ear: once again, the Gelsenkirchen ballet has succeeded in creating a work of art."

"Ein tänzerisches Meisterwerk… Ohne Worte, stumm, aber mit einer Intensität an seelischer Ausdruckskraft, an artistischem Wagemut, der kaum zu überbieten ist. Schöpferische Zusammenstöße… Was die Tänzerinnen und Tänzer, inspiriert durch Cathy Marston, körperlich wie seelisch begreifen und leisten, ist wirklich herausragend… Großer Beifall, Ovationen im Stehen - trotz oder gerade wegen der hohen Ansprüche an Auge, Verstand und Ohr: Wieder einmal ist dem Gelsenkirchener Ballett ein Kunstwerk von Rang gelungen."
Ruhrnachrichten.de
Krol Roger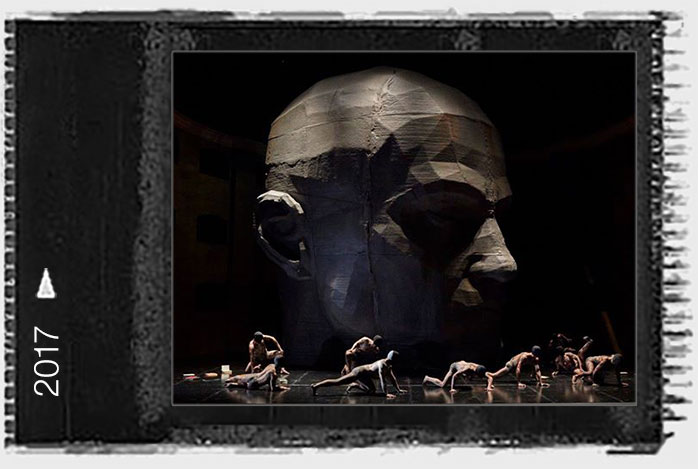 Royal Opera, Royal Opera House, London, 2015 with revivals for Opera Australia, Dallas Opera and others.
Composer: Karol Szymanowski
Director: Kasper Holten
Choreographer: Cathy Marston
Designer: Steffen Aaffing
Light: Jon Clarke
"...the thrusting, erotic, unceasing, dancers that spread their way throughout the mind are like the chaos of his emotions, pulsing like the blood in his confused veins. It's quite a different kind of "dramatic" for an opera, and perhaps where it's more modern tendencies come into play...."
arts.theaureview.com
Dangerous Liaisons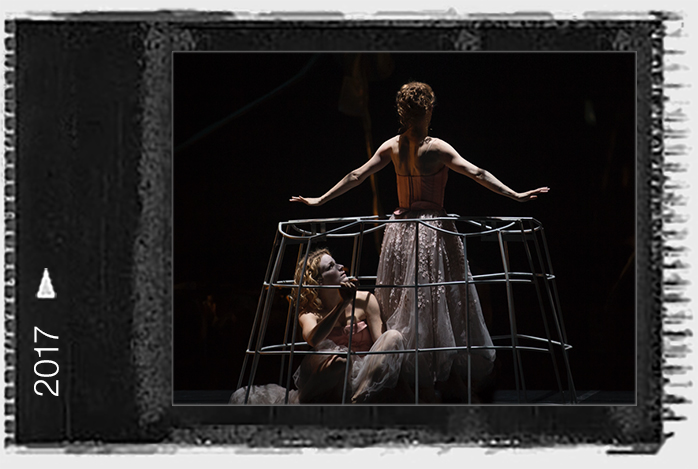 A multi-form collaboration between the Danish Royal Ballet and the drama ensemble of the Royal Theatre this work is a fresh portrayal of this classic novel by Pierre Choderlos De Laclos.
Premiere: 27th May 2017, Royal Danish Ballet/Theatre, The Playhouse, Copenhagen
Choreographer/Director: Cathy Marston
Writer/Associate Director: Edward Kemp
Composer: Jesper Melchlenberg
Designer: Steffen Aaffing
Actors: Marie Dalsgaard and Mads Rømer Brolin-Tani
Dancers: 15 dancers of the Royal Danish Ballet
"How wonderful to experience that The (Danish) Royal Ballet can and dares to go new ways, especially when it turns out to be extremely successful. The newest example of this is the newly-choreographed and very sophisticated version of the world class "Dangerous Relationships", transformed into a ballet, in interaction with two actors… a convincing and brilliant mix of drama and ballet. The acclaimed choreographer Cathy Marston is behind the visionary and bold production…(her) intense choreography goes straight home, in perfect interplay with Jesper Mechlenburgs newly composed and irresistible music. All in all, the performance is an obvious opportunity to see something new – or maybe watch a ballet for the first time."
Dagbladet Børsen
2016
Jane Eyre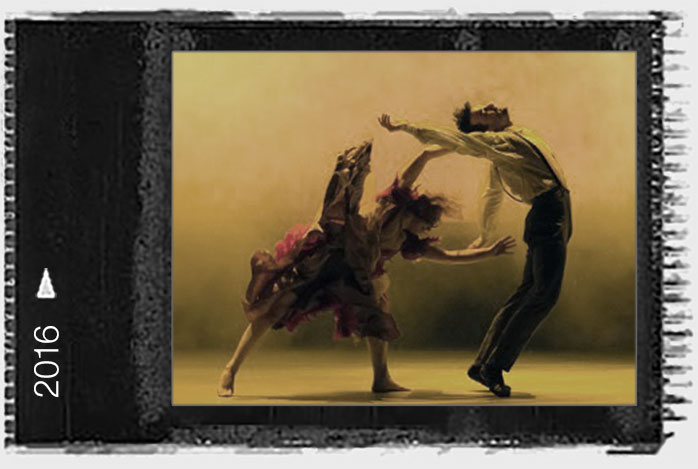 Premiere: 19th May 2016, Northern Ballet, Doncaster and UK tour. Revival of an enlarged version in 2018 including Sadlers Wells, London.
Choreography and Direction: Cathy Marston
Music: Philip Feeney, Felix and Fanny Mendelssohn, Schubert
Design: Patrick Kinmonth
Scenario: Cathy Marston and Patrick Kinmonth
Length: 90mins in two acts
"…Beautifully crafted and moving... Shot through with emotional truth… Marston and the cast made the fate of Charlotte Bronte's heroine matter every step of the way…The stylized veracity they (the dancers) share is a cornerstone of Marston's art, rendering her take on Bronte's feminist gothic romance absorbing and relevant."
The Times ****
Nominated for a South Bank Award and National Dance Award.
Rosenkranz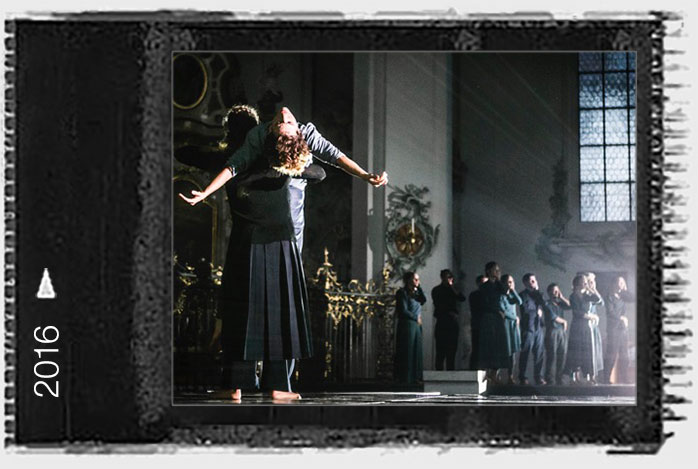 Ballett des Theater St Gallen, Switzerland
Performed in the Cathedral of St Gallen as part of the Festspiel 2016
Choreography: Cathy Marston
Music: Philip Glass, Christian Beigai, Arvo Paert, Christoph Enzel (after Biber) performed by saxophone quartet, Clair Obscur, and organist, Willibald Guggenmos
Costumes: Marion Steiner
Length: 55 mins
Witch-hunt (Poland)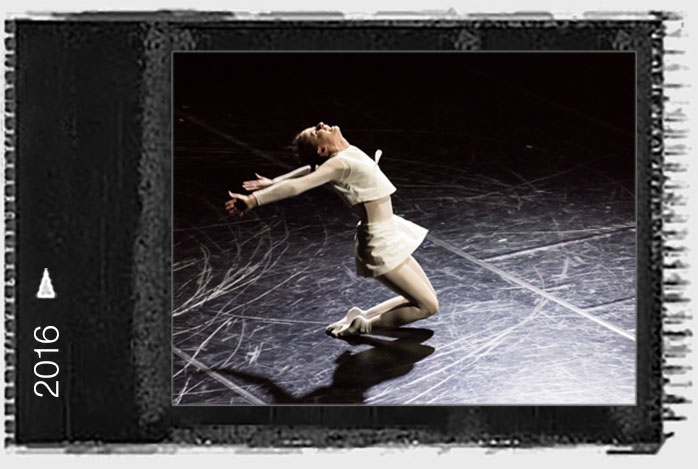 Premiere: Polish Premiere:15th April 2016
Choreography: Cathy Marston
Music: Baroque collage including Vivaldi, Tartini, Albinoni and others.
Text: Edward Kemp
Set: Jann Messerli
Costumes: Catherine Voeffray
Scenario: Cathy Marston and Edward Kemp
Cast: 14 dancers and 1 actress
Length: 75 mins (no interval)
Full Details (2013 performance)
"It has been a long time since the audience in Sczeczin has applauded so loudly."
e-teatr.pl