Choreography 2009
Wuthering Heights (Sturmhöhe)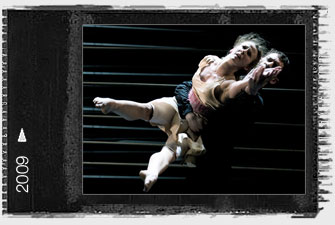 Premiere: Bern:Ballett, Stadttheater Bern, April 2009
Inspired by the novel by Emily Bronte
Music: Dave Maric - specially commissioned and written for live Double Bass (Mich Gerber) and electronic score.
Set: Jann Messerli
Costumes: Dorothee Brodrueck
Scenario: Edward Kemp
Cast: 12
Length: 70mins approx (1 act)
"Marston's great strength is her ability to depict nuanced emotional states, particularly those of women. (…) While this is very much a chamber production, examining the cat's cradle of tensions between the five main characters, the emotion is full scale and the final duet between Tattersall and Marshall is taut with sadness and longing."
The Observer, May 2009
To view a video of the complete work please contact Cathy Marston to request a private link.
Ashes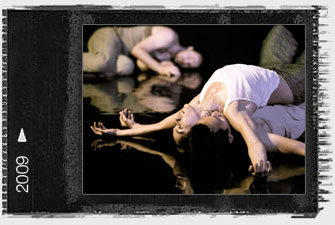 Premiere: Graz Ballett, Graz Schauspielhaus, Austria. May 2009
Music: Dave Maric
Cast: 8
"Die nuancenreichen, expressiven Musik von Dave Maric folgend, wird das ganze Spektrum positiver und negativer Energien von Liebe und Hass, Anziehung und Abstoßung, Leidenschaft und Resignation, Beherrschung, Unterwerfung und Aufbegehren, Zartheit und Brutalität zu ex-trem körperbetonter Bewegung mit Verknotungen, Ringkampfgriffen, Schlägen und Kopfstößen."

"The nuanced, expressive music by Dave Maric employs the full range of positive and negative energies of love and hate, attraction and repulsion, passion and resignation, domination, submission and rebellion, tenderness and brutality matching the extreme choreography of knots, wrestling grips, strokes and head-butting"
Die Woche, June 2009
Juliet and Romeo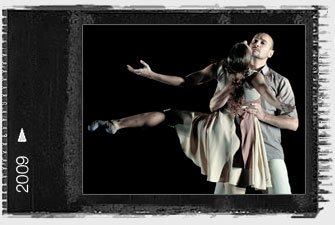 Premiere: Bern:Ballett, Stadttheater Bern, Oct 2009
Music: Prokofiev
Set: Garance Marneur
Costumes: Dorothee Brodrueck
Cast: 11
Length: 90mins (two acts)
"Die elf Tänzerinnen und Tänzer sind in Form und geniessen es sichtlich, die Rollen, die ihnen Marston auf den Tanzleib geschneidert hat, auszuloten."

"The eleven dancers are in top for and visibly enjoyed the roles that Marston had tailored for them"
Der Tagesanzeiger, October 2009
To view a video of the complete work please contact Cathy Marston to request a private link.